Meet five veterans on our team who are breaking barriers and moving the world forward every day.
At Verizon, we are proud to recognize our V Teamers who break barriers every day and defy the impossible. With Military Appreciation Month right around the corner, we're highlighting five courageous veterans who are everyday warriors in their personal lives, the workplace, and everywhere they go.
They recently sat down with Tami Erwin, Verizon Business Group CEO and executive sponsor of our military employee resource group Verizon VALOR, to celebrate Women's History Month. Each inspirational veteran shared why they decided to serve their countries, how they transitioned from the military to a corporate career and leadership role, and how their experience has shaped their personal and professional success.
Samantha A., Inside Sales Supervisor - Verizon Consumer Group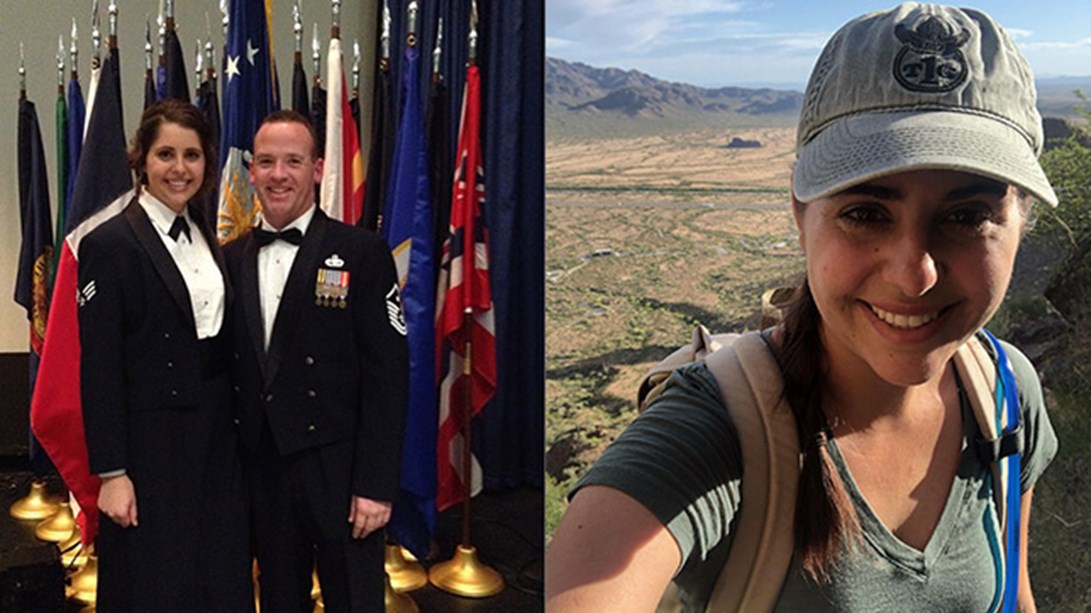 Samantha comes from a family of veterans. Her two grandfathers served in the military, as well as other members of her family. She followed in their footsteps, serving in the US Air Force.
During her years of service, Samantha took on many leadership roles and also worked for the Base/Wing Commander and the Medical Wing in a Human Resource function. With these experiences under her belt, it's no surprise Samantha was able to build a strong foundation that enabled her to start her corporate career at Verizon.
Samantha started her V Team journey in a retail store in Tucson, Arizona. That journey eventually took her to North Carolina after she was promoted to her current management position as an Inside Sales Supervisor. Samantha's husband Matthew is an active duty Marine who recently was promoted to the role of Master Sergeant.
Krista P., Global Strategic Sourcing Leader - Verizon Corporate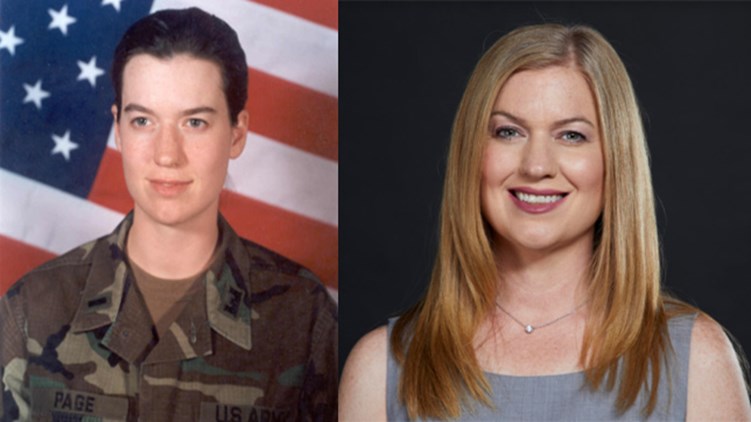 Coming from a long line of military service members, Krista always enjoyed the military culture. This is what inspired her to attend the US Naval Academy and graduate with a Bachelor of Science in System Engineering.
Later, Krista successfully commissioned from the Naval Academy into the Army as an Engineer Officer, becoming the first woman to do so. In the army, she served five years as an Engineer Officer. She also did tours of duty in Bosnia for Operation Joint Endeavor as Bridge Platoon Leader, Germany as Battalion Maintenance Officer, and finally in Missouri as Executive Officer and Brigade Training Officer.
In her corporate career, Krista has held various leadership roles in procurement, supply chain management, engineering, and more prior to becoming a V Teamer in 2019. Today, she leads Global Strategic Sourcing. Krista has a passion for developing talent and building strong teams that help us move the world forward.
Kelly H., Federal Government Program Management – Verizon Business Group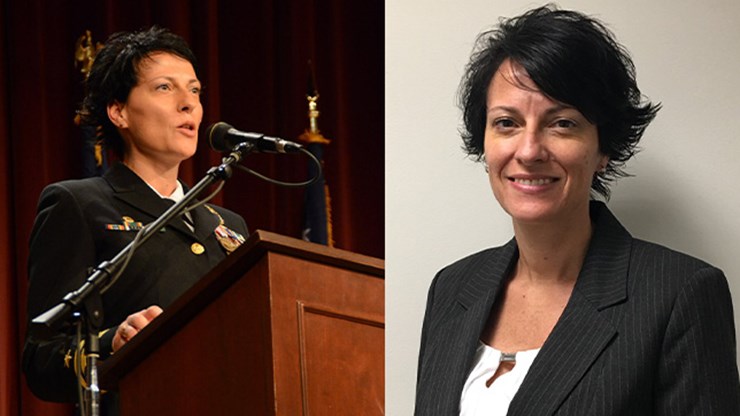 Kelly started her journey with the Navy in 1991 as a Journalist. In 1995, she was accepted into the officer cadre and was designated a Naval Flight Officer in the P-3 Orion Aircraft. She continued with a long military career consisting of various missions, including Operation Enduring Freedom and Operation Iraqi Freedom where she flew over 3,500 combat hours.
During her service, Kelly was selected for the senior officer course at the Naval War College where she impressively completed her Master's Degree in National Security and Strategic Studies. She also received the honor to be selected on the Joint Staff, J-5 Strategy and Policy Directorate where Kelly served as the Chairman of the Joint Chiefs direct representative to Morocco, Tunisia, Algeria and Libya.
In 2018, Kelly participated in a Hiring Our Heroes Corporate Fellowship. After 29 years of honorable service, she retired from the Navy in 2019. That same year, we were proud to have Kelly join the V Team as part of the next chapter in her life as Program Manager leading Verizon's Federal Army Enterprise IT as a Service program.
Kristy S., Global Diversity, Equity and Inclusion Manager - Verizon Media Group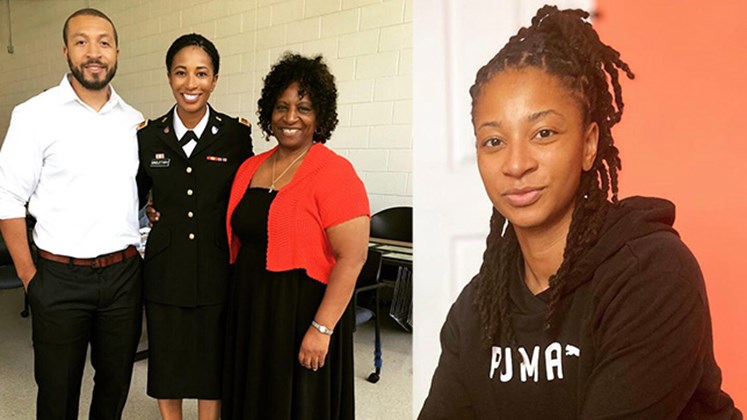 Kristy always knew she wanted to join the Armed Forces, as her father and uncles served in the US Army. Her family's pride in serving their country helped make her decision to join the military.
She served in the DC Army National Guard as a Human Resource Officer for seven years. She credits her time with the National Guard for teaching her the power of teamwork and the value it contributes to outstanding results.
As a leader in DE&I today, Kristy leads education and awareness programs that spearhead a variety of learnings that focus on systematic and implicit bias and helps build cultural awareness while driving inclusion strategies. She is passionate about cultivating an inclusive workplace through impactful experiences and fostering an environment that focuses on overall health and wellness.
Lianna B., Director of Creative Content Development - Verizon Media Group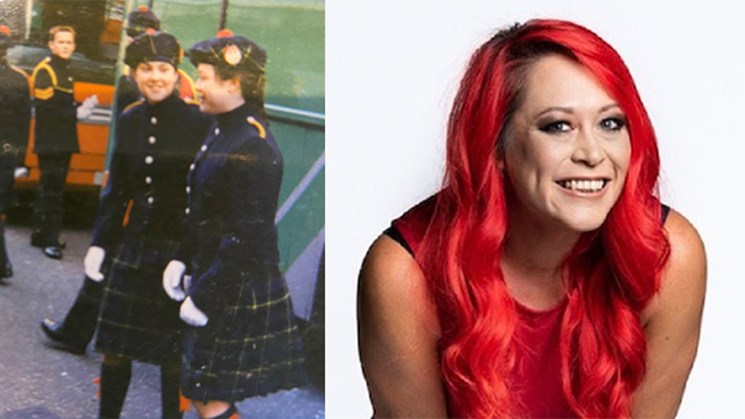 At an early age, Lianna dreamed of becoming a future war correspondent and convinced her parents to enroll her in military school. She went on to briefly serve as a non-commissioned officer in the Royal Air Force. She also pursued a Master's degree in Contemporary War and Peace Studies with a specialization in Ethnic Nationalist Conflict and Genocide.
Lianna has an impressive 15 years of media and tech experience. She joined Verizon Media in 2018 where she is currently a Director of Creative Content Development.
She is also an active member of our Verizon PACE (Pan Asian Corporate Excellence) employee resource group (ERG) where she serves as the Global Co-Lead. She is glad to share her cultural knowledge and experience with others in the ERG as she proudly embraces her heritage as a British Malaysian Chinese woman.
Celebrating women every day.
These incredible V Teamers are a testament to making a difference and moving the world forward by being themselves and pursuing their ambitions. We are so grateful for their service and honored to be able to call them members of our Verizon family.