Verizon's Campus Ambassador Program helps bring emerging talent to the V Team.
It's peak graduation season and a great opportunity to show school pride for our alma maters. With commencements going on right now, it also signals to employers that there is more emerging talent to tap into for their organizations.
From interns to members of our Verizon Leadership Development Program (VLDP), our Campus Recruitment team works hard to help these future leaders get real-world experience and launch their careers.
Who better to help bring new opportunities to the next generation of our workforce than our own V Team? Enter Verizon's newly-launched Campus Ambassador program.
Leading and connecting future talent.
As part of our Campus Ambassador program, Verizon works to engage with college students on multiple levels. V Teamers have the opportunity to reconnect with their alma maters while serving in a specific role to engage with students in a variety of positions:
School Team Leads serve as the liaison between each school and Verizon's Campus Recruitment Team, aligning expectations and leading by example.
Connectors are designated to reach different campus organizations, attend campus events, and communicate with candidates directly.
Influencers are students selected to share all things Verizon with the student body and spread the word about our campus recruitment programs.
Meet a few of our Campus Ambassadors!
V Teamers who participate in our Campus Ambassador program work to connect with students and offer as much guidance as students may need early in their career journey.
Here are a few of our Campus Ambassadors who have been creating meaningful change and positive impact among our campus community. Learn more about how they went from campus to career and how they're supporting our new program.
Nicki Davis, University of South Carolina
Nicki began her career journey at the University of South Carolina, where she earned a Master's Degree in Human Resources. Throughout her time at UofSC, she worked on high-impact, 'real-life' group projects, such as complex business cases with Fortune 500 companies as part of her consulting class.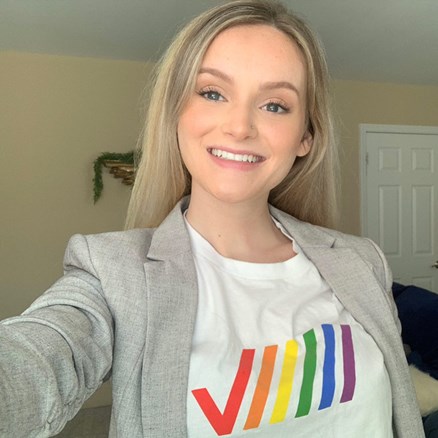 The broad and developmental experiences Nicki had in college were integral in shaping her into the HR professional she is today. They helped her grow her teamwork and leadership skills, critical thinking, and innovative mindset, which she now uses every day at Verizon.
The Campus Ambassador program has offered Nicki a chance to help other alumni from UofSC achieve success and feel welcome on the V Team. She sees her role as the first introduction new grads have to Verizon's culture, and she takes pride in providing them with that sense of inclusion and teamwork.
"Verizon's culture can be best summed up by its incredible people. We volunteer together, help one another, encourage and motivate our teammates, and make each other smile every day."
Karoan Tatum, Prairie View A&M University
From his time as a computer science major at Prairie View A&M to his experience as a Verizon intern, Karoan has continuously worked on developing his confidence and mindset. He has always enjoyed working as a System Engineer, and the team environment here at Verizon made it an ideal career destination for him.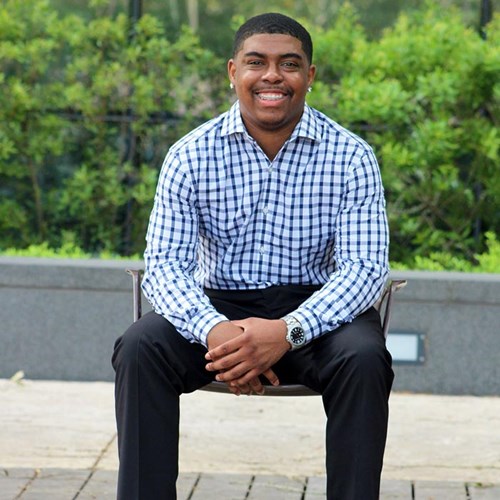 But it hasn't always been smooth sailing for Karoan. Towards the beginning of his internship with Verizon, he was diagnosed with a rare autoimmune disease. As a result, he had to dedicate more time to his self-care and deliberately do things to keep himself healthy.
Karoan shares, however, that Verizon was there for him along the way. He was given the time he needed to recover and find a new routine. When he did return to work, Karoan was welcomed with open arms. This helped solidify that he truly wanted to move his career forward with Verizon.
Now, Karoan spends his time paying his good experiences forward, helping other new grads find the welcoming environment that Verizon offers. As a connector and campus ambassador, Karoan acts as a touchpoint for recently hired PVAMU alumni, helping them get acclimated on the V Team by being there for them as a friend and guide.
"I can be a contact to help someone get acclimated or just be a friend. I want people to succeed and love Verizon. So I will help them with whatever they need."
Tariq Brown, Morehouse College
Tariq has been an integral part of the creation of the Campus Ambassador program, currently leading the team behind this key initiative to help build connections and develop Verizon's brand on their campuses.
This project has been personally significant to Tariq as an HBCU alumni. His time at Morehouse College helped him develop a sense of self and carry the lessons he learned as a student into his career.
Following his undergrad, Tariq completed his Master's degree in HR at the University of South Carolina, gaining valuable experience even traveling abroad to Singapore, which gave him a global perspective. He also advocated UofSC's HR program to HBCUs by sharing his story at grad fairs and info sessions.
Participating in the Campus Ambassador program allows Tariq to make connections with his alma mater and expose students to the campus opportunities at Verizon. He takes every chance he can to share his experience as a V Teamer with students, and the benefits of Verizon's inclusive and authentic culture.
"I describe Verizon's culture as work hard, play hard. We are a diverse group and create an environment where you're comfortable being your true self and that allows you to bring your best self to work every day."