V Teamer Joseph Z. uses his own experiences to help diversify talent at Verizon.
Growing up in a predominantly Mexican-American neighborhood in Houston, TX, and proud of his own Mexican heritage, V Teamer Joseph Z. has always had an appreciation for those with diverse backgrounds.
He has also learned a lot from the systemic inequalities he has experienced throughout his life as he has overcome prejudices and other obstacles. That's why he is committed to diversity and inclusion in the workplace and ensuring that people from all walks of life have equal opportunities to work, learn, and grow.
As a member of Verizon's Talent Acquisition team, Joseph has used his own life experiences to help Verizon move the world forward. Today, he plays a major role in identifying potential talent for the V Team that might otherwise go unrecognized.
Finding balance.
From the start, Joseph had a light in him that shined brighter than the rest. As a child, teachers could see that he had something special. They even encouraged him to enroll in a high performing public school in one of the city's most affluent areas to challenge his skills and set him up for success.
Always supportive of his future, Joseph's family invested in him to ensure that he was given every opportunity for a great education. Soon enough, he found himself traveling 90 minutes each day, to and from his new school.
When he began at his new school, academics were not his only challenge. Because he was surrounded by kids who looked, talked and acted differently, Joseph was keenly aware that being different would be a part of his identity.
"I had a very different life experience from my peers with unique challenges, yet I was still held to the same standard as everyone else," Joseph said. "This is an all too common experience for folks that are first-generation college students or people with diverse backgrounds that pursue education."
Be the change.
In addition to his experiences at school, Joseph dealt with racial profiling throughout his life. He's experienced everything from being accused of shoplifting, to being pulled over randomly. Despite the challenges he's faced, Joseph has used his experiences with inequality to help others by becoming an agent of change in the professional world and help others overcome prejudice.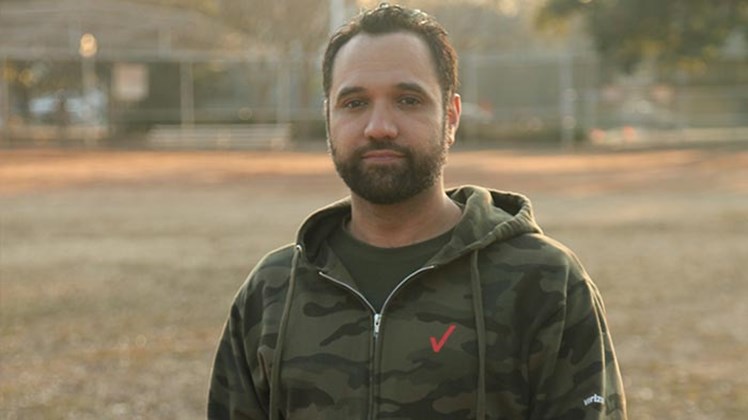 As a volunteer providing mentorship to students in Dallas, TX, and a member of SOMOS, Verizon's Hispanic employee resource group, he understands the immense value of being a role model and truly being the change.
Making a difference.
When life gives you lemons, you make lemonade. This has been Joseph's perspective throughout his life as he's used his own experiences as inspiration to move forward — and it definitely has paid off. Today, Joseph's family couldn't be prouder of him for continuing his education journey and earning his Masters and Doctoral degrees in industrial and organizational psychology.
At Verizon, Joseph is committed to finding new ways to recruit by designing inclusive processes for all candidates. Joseph's goal is to continue making a positive impact on diversity, inclusion and equity in our talent acquisition processes, and to one day have greater responsibility for designing and evaluating them.
Learn more about how Verizon values diversity and inclusion.