Three Network Strategy and Planning leaders share key lessons they've learned on their career journeys.
As a leading technology company, Verizon is transforming the way people, businesses and things connect with each other. Our Network Strategy and Planning team plays an integral role as they meet the needs of our customers while working on emerging technologies like 5G and more.
What is Network Strategy and Planning?
The Network Strategy and Planning team creates and drives the network architecture that brings all of Verizon's network services to life, including 4G LTE, next-gen passive optical networks (NG-PON), the intelligent edge network (IEN), multi-access edge compute (MEC), software-defined networks (SDN), virtualized network functions (VNF), the Verizon Cloud Platform for Network Functions (VCP), Internet of Things (IoT), Security, and 5G.
The team plays an integral role both in the technical side of our award-winning network and the strategic and planning aspects to ensure that Verizon's access, core, fixed and global infrastructure stays current and future-ready.
Learn about how Network Strategy and Planning team leaders Danielle, Jayashree, and Babatunde are leading the way with innovation and shaping the future through tech.
Danielle Mulholland - Director, Data Science
One guiding principle that Danielle Mulholland has learned throughout her career journey: Don't be afraid or embarrassed to ask questions. Asking questions is the fastest way for you to learn and grow.
With each role Danielle has held at Verizon, she has built new technical skills that she didn't have before, especially when she joined the Data Analytics team. After a few months on the team, she discovered that she had a passion for the field.
This inspired her to go back to school and pursue an Applied Analytics Master's degree. If it weren't for Danielle's curiosity and drive, she may never have realized her true career destiny.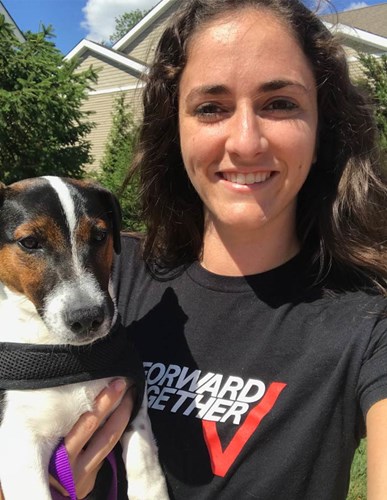 Representation is key.
Danielle currently leads the Network Capital Management Data Science team. Using data to drive impactful decisions is her favorite part of this role, as well as the constant innovation and strategic components of her job. As technology evolves rapidly, critical thinking and decision-making play an integral part. When it comes to making the right decisions, Danielle says that representation is key.
"How are we supposed to plan for the needs of our customers if we don't have all of their viewpoints represented on our teams?" she shares. "My team is made up of people from a variety of backgrounds, and I find every single day that the diversity of thought on the team leads to more innovative solutions."
Jayashree Kilkovalavedu - Senior Manager, Verizon 5G Edge (Public MEC) Strategy, Architecture and Planning
Jayashree Kilkovalavedu spent the first 20 years of her career working in many technology-related roles within product development and operations. Eventually, she was eager for change and began searching for roles that focused on strategy and planning.
"I was looking for a role that would help unlock possibilities and pave the way for innovation," Jayashree said. "The Global Network and Technology (GN&T) team is doing exactly that — focusing on innovation and value creation, pioneering cutting-edge technology solutions such as Mobile Edge Computing (MEC). With MEC, the GN&T team will make AR/VR, Robotic surgery, IoT and real-time game streaming a reality, thus delivering on the full transformative promise of 5G."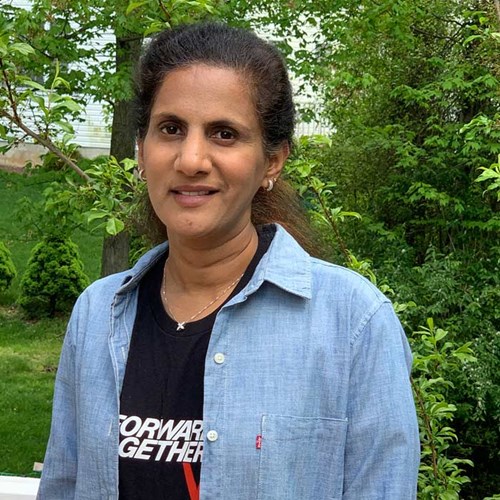 Fostering an inclusive culture.
As a senior manager in GN&T, Jayashree is proud to be part of an organization that maintains a culture of transparency, feedback, and mutual respect where everyone's opinion is valued.
For her, the best part about working in this role is the opportunity to architect and design, work hand in hand with not only Verizon's Network Planning, Engineering, and Operations teams, but also, work shoulder to shoulder with external cloud service providers who have partnered with us in this MEC journey: "An opportunity to work in a role that helps tie together the best network and the best cloud platform at the right place and right time is something I could not pass" she shares.
Babatunde Akindele - Director, Technology
Leading the technology strategy team in the Network Technology Strategy and Planning organization, Babatunde Akindele's team is responsible for driving the development of technology strategies to ensure that Verizon stays ahead of the competition.
In his day-to-day, Babatunde finds himself working with emerging technologies like 5G, multi-access edge computing (MEC), and more. His role involves a great deal of strategic thinking with a significant focus on new growth opportunities for the company.
Wearing different hats.
Despite the many technical aspects of his role, Babatunde says he must also consider the implications of technology strategy while meeting with business clients, especially when exploring new technology areas. This is essential in helping his team understand our customers and how Verizon can leverage technology to meet their needs.
Babatunde shares, "We are at an inflection point in the telecommunication evolution, and Verizon's Technology Strategy and Planning organization is leading that charge."
"A career in Technology Strategy and Planning provides you an opportunity to impact the next generation of technologies that will revolutionize the way we interact with our world."