This month, we're celebrating the contributions of women everywhere, while reflecting on how to keep making progress for women.
"Women's History Month is a time to reflect on all the women who came before us. It's the realization that even though we are in a better position than we were less than a century ago, there is still so much more work to be done that will set our future female generations up for success. Although we can pull up our own chair to the table, break through the glass ceilings, and bang on the doors, isn't it a more collaborative environment when seats, doors, and ceilings are designed with us in mind? Women's History Month reminds us to do just that."
All month long, we're highlighting V Teamers across the company who are breaking the bias in their own ways, starting with two members of our Verizon WAVE (Womxn's Association of Verizon Employees) employee resource group (ERG), Katrina Fuhrman and Nicole Sohoni.
Making connections and pursuing your ambitions.
For the past nine years, Katrina Fuhrman has progressed through her Verizon career journey, from selling Fios to local businesses door-to-door, to becoming a district sales manager of 10 retail locations, and later moving to Verizon Business Group (VBG). In each of her roles, she was focused on not only getting to know her customers but also building her personal brand on social media. It was something she enjoyed so much that it led her to make the leap from sales to marketing, moving into her current role as a social media marketing manager.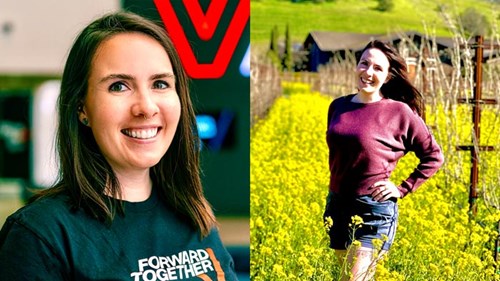 Known to her followers as the "Connector Queen," Katrina's passion for social media and personal branding plays a big part in her life outside of work, as does work-life balance: "When I think of creating content and balancing other responsibilities in my day-to-day life, I rarely am overwhelmed by the notion. Sometimes I will block out time to build out a pipeline of content, but, generally, I find inspiration in my daily life," she shared. "It's important to set a pace that is sustainable for you. And if you miss your cadence, give yourself a break. Social media will still be there, and your mental health is more important."
Having the time to pursue her goals outside of work and create content for her online presence, while also feeling empowered to show up as her true self at work has played a big role in how she breaks the bias. Having a strong support system made up of her fellow V Teamers and WAVE members makes it all the easier: "Verizon, in a word, has changed my life," she said.
Move the world forward while making your voice heard.
For V Teamer Nicole Sohoni, breaking the bias is all about knowing what you bring to the table and having the confidence to make your voice heard. She shared, "I break the bias in my professional and personal life by being open and empathetic, while never shying away from different perspectives or difficult conversations."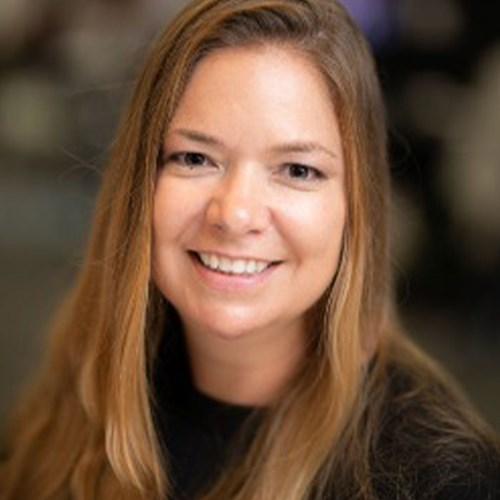 Nicole began her Verizon career journey in customer service. While in this role, her manager empowered her to think about career development and progression by job shadowing V Teamers in different areas of the business. This is when Nicole discovered her love for tech.
Over the years, she has been in various IT roles at Verizon, until moving into a leadership position in 2011, which she calls "the icing on the cake." Today, she leads the Verizon Partner Solutions (VPS) Global Technology team as a GTS Application Development Director. Her team focuses on driving long-term value through innovation and automation.
Still keeping her personal and professional development in mind, Nicole decided to join Verizon WAVE in 2015 after moving to New Jersey. One of her co-workers recommended joining WAVE as a way to meet new people and build her network. Seven years later, she is now the ERG's Global Board of Directors Communications lead.
The ERG has been instrumental in helping Nicole expand upon her skills, build her network, and boost her confidence. For her, the best part is having a community where she can bounce ideas off of others and get insights into tackling everyday challenges.
"ERGs give us a way to connect and engage on a personal level with others who also need someone to chat with about work or life," she said.
Making waves with our employee resource groups.
Through resources, live events, and development opportunities, Verizon WAVE empowers V Teamers to show up as their true, authentic selves at work. The ERG is a collaborative, diverse, and inclusive organization where all are welcome.
"WAVE has been a great way for me to expand my core skills, my network, and my confidence. I've built a community of individuals to bounce ideas or get insights to everyday challenges."
Verizon WAVE started Women's History Month strong with our LinkedIn Live kickoff event featuring DEI leaders Deborah Tsai Munster (Seramount's VP of People, Culture & Operations) and Magda Yrizarry (Verizon's Chief DEI Officer). Catch the replay here. 
Learn more about diversity and inclusion at Verizon.