Meet the Orecchios who've persevered as a military family and moved their careers forward together as part of the V Team.
Raising a family in the military has always been a challenge for those who serve our country but the Orecchios have stood by each other every step of the way. From college sweethearts who started their life together after graduation to growing their family, Joe and Monica Orecchio have a strong foundation built on love, interdependence, and continuity.
Today, three of the five Orecchios have found their home on the V Team, with dad Joe, mom Monica, and son Schuyler each pursuing their ambitions in different areas of the business.
A united homefront.
Now an Army veteran, Joe has 27 proud years of service under his belt. His time in the military took the family through 18 moves across the globe which brought both challenges and rewards. It was through these experiences that the Orecchios learned just how strong a team they are.
When Joe first entered the Army, he says Monica joined with him, but in a different capacity — as a military spouse. Her job was not an easy one. On top of raising a family, she also needed to make sure she had job security herself.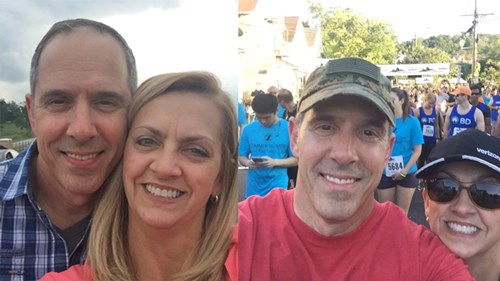 "As a military spouse, you never have the longevity that you're hoping for in a role because you're moving every 18 to 24 months," Monica said. "Just as you get in and excel in your role, then it's time to leave again, so it's hard to move up the ladder in a role like other people."
Growing up in a military family, Schuyler gained a great appreciation for those who serve. Watching his dad's military career unfold left him with a strong desire to serve his country as well. As a young man, he was eager to go from being a military child to a proud service member.
Following his dreams, Schuyler attended the United States Military Academy at West Point. From there, he became an Army officer, leading a platoon of soldiers in Afghanistan. Upon his return, he was appointed to The Old Guard, a unit that serves as the escort to the President of the United States and conducts memorial affairs in Arlington National Cemetery.
Making the move from soldier to civilian.
Joe was the first Orecchio to join the V Team, transitioning into the civilian workforce after his years of military service.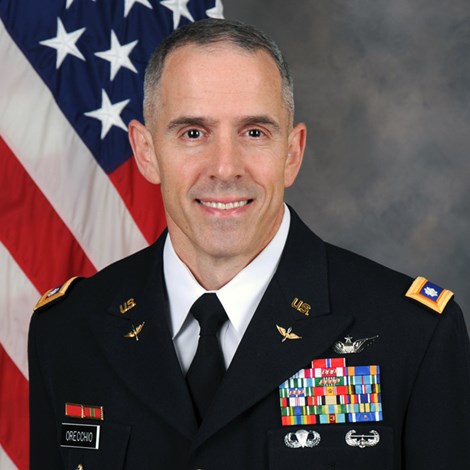 After interviewing with hiring managers and recruiters — some of whom were veterans themselves — Joe quickly knew that Verizon was the right place for him. Throughout the hiring process, he was met with empathy and understanding from those who had once been in his shoes, including a dedicated team of military recruiters who helped make his transition smoother. This left a great impression on Joe as he prepared to begin his post-military career journey.
From fellow to full-time.
Schuyler's journey to the V Team was a bit different from his father's. He joined via Verizon's partnership with the Hiring Our Heroes corporate fellowship program. For him, this was the best transition into the civilian workforce, full of mentorship, guidance, and real-world experience.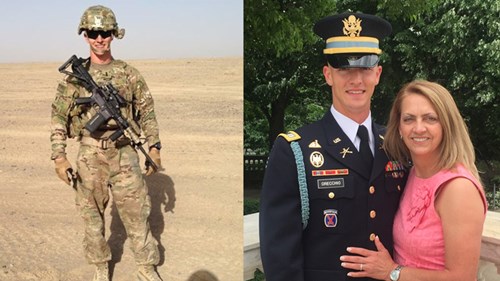 As the first military fellow within Verizon Consumer Group, Schuyler was eager to prove himself. He learned the ropes quickly and after the fellowship, he pursued a full-time opportunity where he continues to make a positive impact.
Giving back to military spouses.
Today, Monica uses her past experiences as a military spouse to help others as a Retail Recruiter on the V Team. For her, one of the best parts of her role is guiding veterans and military spouses in finding the role that's right for them while empowering them to take control of their futures.
Monica also has another important duty — she currently serves as a co-lead for military spouse initiatives within the Verizon VALOR employee resource group (ERG). This ERG is focused on providing guidance, assistance, and representation for the military and veteran communities.
One of her biggest goals is to share the resources available to Verizon's military community while educating leaders across the business on their value. She hopes to continue to support Verizon's military community in the same way the company has supported her own family.
"Verizon understands the quality and value of the employee they're bringing on to the team by hiring veterans and military spouses. It's a phenomenal company that understands and continues to show that they value the military even after they are hired."
Living our values.
For Joe, joining the V Team was a big transition from everything he'd known and loved in the military. Moving into a corporate environment was like jumping into a whole new world. One thing that helped him feel more at home was Verizon's Credo since it reminded him of what he valued most in the Army. "Integrity is the foundation for trust — and you can't have great teamwork without trust," Joe shares.
Similarly, Schuyler felt especially inspired knowing that he was met with camaraderie and support from day one.
"In the military, someone always has your back. Stepping away from that requires working for companies that will do the same. At Verizon, I felt like my teammates and leadership had my back right away. The transition was made easy because everyone here believed in me and trusted that I would bring value."
This Military Appreciation Month, we're giving #Thanks2Vets to veterans and military families like the Orecchios who have made the ultimate sacrifice. To all of our veterans and military service members, thank you for your service. To all of the military families, thank you for standing with them every step of the way.
Learn more about Verizon's commitment to the military community.