V Teamer Mark W. shares how Verizon's benefits have supported his family with essential resources for his three-year-old daughter, Emma, who has autism.
April is World Autism Month, a time to celebrate and empower those with autism. Inclusion starts with acceptance. Join us in taking the pledge for autistic inclusion this month and year-round.
We're highlighting V Teamer Mark West who shares the story of his daughter Emma, whom he describes as energetic and always on the move. Although life for Emma and her family isn't always a walk in the park, she tackles each day with persistence.
Just last year, Mark and his wife learned that Emma has autism. After countless doctor visits and a move from Hawaii to Florida, they have committed to making sure their three-year-old daughter has all of the necessary resources she needs to thrive as she grows up.
Benefits that go beyond.
When Emma was born one month premature, she had to stay in the NICU (Neonatal Intensive Care Unit) for 27 days. Thanks to Verizon's medical coverage, Mark did not have to worry about the cost of Emma's care.
Today, these same benefits continue to give Mark peace of mind knowing that he can provide his daughter with everything she needs. His medical coverage has especially been a big help in Emma's development, allowing her to participate in daily therapy sessions and Applied Behavior Analysis (ABA) services.
"Early intervention and therapy have been proven as greatly helping someone with autism to be able to communicate and function," Mark said. "I simply couldn't do this without the benefits Verizon provides as it can cost hundreds of dollars a day."
A strong family bond.
Before work every morning, Mark begins his day by taking Emma to her therapy session. Later in the day, Emma receives her second session at home. Mark is grateful for the opportunity to grow closer to his daughter and be there for her when she needs him most. On his days off, he shares, Emma loves to hop in her stroller and go for a walk with her dad.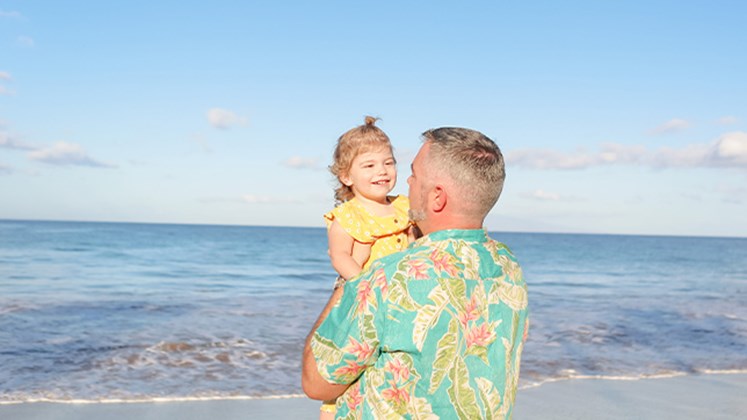 Mark and his daughter, Emma.
As an Inside Sales Supervisor, Mark connects one-on-one with members of his team via video conferencing. For Mark, working from home has been a great help in allowing him and his team to advance their careers while giving them time back to be with their families.
When he is not working, he is attending graduate classes for his MBA degree through the tuition assistance program — another Verizon perk he is grateful for. Between family, work, and school, Mark's day-to-day can get pretty hectic. But one thing is for sure: He wouldn't trade it for the world.
Fostering a culture of inclusion.
Mark is a proud member of our Verizon ADVANCE (Advocates for Disability, Accessibility, Neurodiversity and Caregiver Empowerment) employee resource group (ERG) where he is able to connect with other V Teamers who are passionate about creating a universally accessible workplace and world.
Verizon ADVANCE aims to move beyond "awareness" of disabilities and neurodivergences, and to move toward acceptance, inclusion, equity, and empowerment. The group also helps engage and empower V Teamers to fulfill their greatest potential through personal and professional development.