To commemorate National Intern Day, hear from three interns sharing their first month experiences on the V Team.
Last month, we welcomed over 400 interns to the V Team. For 10 weeks, they'll contribute their bright talents and skills across the business, creating meaningful change company-wide.
This National Intern Day, we're excited to recognize our #VerizonInterns and thank them for all the hard work they do! We're highlighting three who've shared their impressions of the Verizon internship program after their first 30 days.
Diana Florencio, Maintenance Engineering Intern
Diana reviews the existing capacity and reliability of wireline network facilities and strategizes how to increase power, space, and cooling capacity for the next five years. Even after she concludes her internship, Diana's work will leave a lasting impact on the company, allowing for greater efficiency, reliability, and growth.
For Diana, combining her creativity and engineering skills has been one of her favorite parts of her internship, especially brainstorming innovative ways to solve problems. She hopes to come away from this internship with a plan to own and meet her career goals and build her networking and communication skills.
Diana aspires to have a fulfilling career as a network engineer where she can make a positive impact both on the company and the community. Luckily, she's starting off on the right foot as an intern, participating in Verizon's volunteering events and working on real-world engineering projects that improve how Verizon serves its communities.
"I love how welcoming everyone is. Everyone is so willing to help you with whatever you need or point you to someone who can. I've learned so much from different Verizon employees and I'm looking forward to continuing this journey!"
John Hamilton, Contact Center Technology Solutions Intern
Most interns can't say they've had the opportunity to sit down with Verizon CEO Hans Vestberg for a virtual coffee chat — but for John Hamilton, this has been an experience he'll never forget.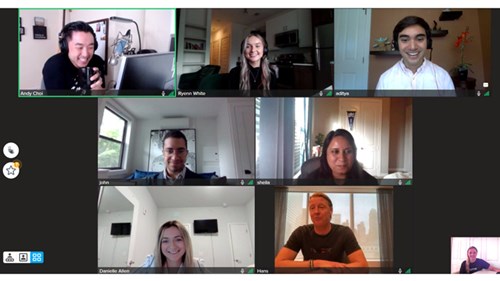 As part of Spirit Week, John was one of five lucky interns who were chosen to join a virtual coffee chat with Hans. They were able to ask questions and hear valuable insights from Hans, including his strategy as Verizon's CEO, tips on how to maintain a healthy work-life balance, and advice in leadership and networking.
A typical day for John includes troubleshooting and resolving escalations regarding employee access and call center tech inquiries. Another main focus is working on his internship program project — a training deck that covers systems and procedures — which will benefit V Teamers for years to come.  
One of John's biggest career goals is to lead teams as they generate new business and develop markets and sales channels. This is why hearing from different leaders at Verizon has been especially rewarding for him this summer. His internship experience has taught him key lessons he'll carry with him throughout his career, including the importance of asking questions, networking, and leading without authority.
"My internship will give me the foundation of people, project management and business communication in an amazing company with a ton of resources and expertise to take advantage of."
Asia Holt-Harris, Legal Intern
Asia, a rising college junior, is excited to pursue her career goals in the Verizon internship program. In her current role, she collaborates with Legal V Teamers on different projects. Through it all, she makes time to check in with her mentors to chat about ongoing projects and personal goals.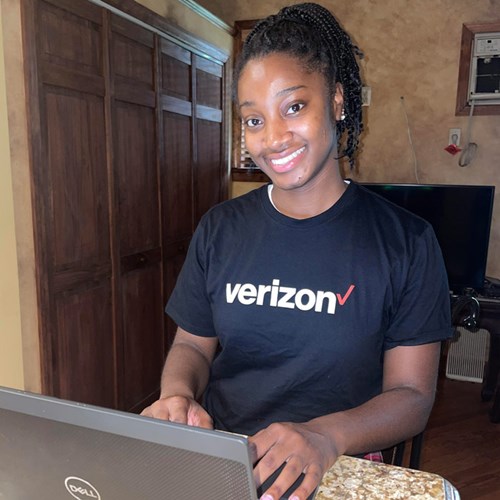 While her ultimate career goal is to become a criminal defense attorney, her experience as a legal intern has helped her explore other areas of law, ranging from intellectual property to advertisement. 
She appreciates the opportunity to work on a variety of projects as she determines the best Legal career path to pursue: "I'm gaining experience in all fields to understand where my true passion lies," she said. In her 30 days here, Asia has learned firsthand the importance of going into every interaction with an open mind and willingness to learn.
"Verizon is a company full of genuine people. I have received the warmest welcomes and best advice here at Verizon. Everyone in the V Team wants the best for their interns and is truly invested in their success."
To all our interns this National Intern Day, thank you for the hard work and dedication you contribute. We're glad to have you as part of our network of people who move the world forward.