Read about how our tuition assistance program helped V Teamer Shehram M. shape his career and reach his potential.
Equipped with tons of ambition and a desire to learn, Shehram M. was eager to join the V Team as a Network Technician.
Having previously worked in sales, hospitality, and even healthcare, Shehram was hesitant to work in an area where he had limited experience. But this didn't stop him as he began his Verizon career journey in September 2013 right out of college.
Today, Shehram is a senior manager on the client services team responsible for service assurance and network availability for our U.S. Government and Federal customers. Shehram didn't get here overnight — in fact, he credits Verizon's tuition assistance program and the power of education as key factors in helping his personal and professional development.
Climbing up the ladder.
During his time on the Network Technician team, Shehram knew that he wanted more from his career so he decided to go back to school, where he earned his Master's of Science in Network Management. Classes like Next Generation Wireless Networks and Business Insights & Analytics have even inspired him to add data analytic certifications to his list of goals for the future.
Always looking for more ways to grow, Shehram decided to pursue a second master's degree — a Master's of Business Administration (MBA) — shortly after completing his first post-graduate degree. The power of education has opened doors for Shehram within Verizon, allowing him to reach management roles.
"I was already aiming to pursue senior management roles and become a well-rounded candidate. I wanted to learn Verizon and its business as a whole," Shehram said.
A culture that empowers.
When he first decided to go back to school, Shehram knew that it would be challenging to balance a full-time job along with his classes. In the end, he said, it all boiled down to time management, setting expectations, and prioritizing school work and a desire to learn around his working hours.
Shehram's mentors, co-workers, and leaders played a critical role as his support system. They also encouraged him to seek new opportunities across the business to help him gain experience in new areas and learn the business as a whole, in addition to gaining knowledge from his classes.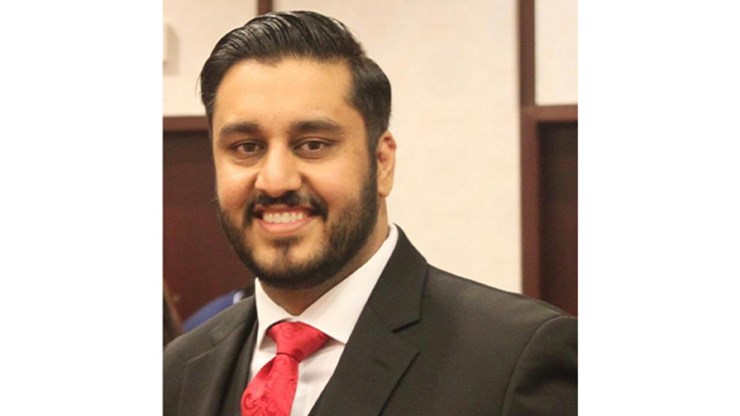 V Teamer Shehram M.
In addition to working on his professional development, he also made time to give back to the community. As a Verizon Innovative Learning Ambassador, he mentored high school and college students in STEM. He has also mentored students with disabilities as part of the Rising Leader Initiative with the U.S. Business Leadership Network since 2018.
Shehram is also passionate about being an active member of many of our employee resource groups (ERGs), including PACE (Pan Asian Corporate Excellence), BOLD (Black Originators Leaders and Doers), and WAVE (Women's Association of Verizon Employees).
Don't wait for opportunities — create your own.
Throughout his seven years on the V Team, Shehram has created his own path through a strong desire to learn, giving him the space to learn and grow in any role he takes on. Looking ahead, this is how he plans to continue moving forward in his career.
"I've made sure that every year, I take on additional responsibilities and contribute to projects that are putting Verizon on the map," he said. "I see myself as a business leader who is not only supporting his team but helping Verizon grow."
"The tuition assistance program has helped me in ways I never thought were possible. I never thought I'd have enough experience to rise through the ranks, and now I'm currently working as a senior manager. I just love Verizon."