VP of Public Sector State, Local and Education (SLED) Sales Patty Roze shares her career journey and how she builds relationships and stays connected with her team.
Celebrating her 21st anniversary as a V Teamer, Patty Roze has seen her share of changes and evolution throughout the years. Going from an entry-level business-to-business (B2B) role to a Public Sector Sales leader, Patty has had quite the Verizon career journey. For her, leadership development and building strong relationships have been the constant through it all.
"I've had the opportunity to work with some incredible leaders over the course of my career. I'd argue that I've had some of the best mentors, coaches, and sponsors. The leadership development within Verizon has been huge for me."
Learn more about her humble beginnings as one of our #VerizonWomenInSales and her tips on keeping her team engaged each day.
Knocking on every door.
It was a different way of doing sales when Patty started her career at Verizon. When prospecting for new business customers, Patty and her team would literally knock on at least 20 doors a day collecting business cards and following up.
Since then, technology has evolved — and so has Patty's career. She held roles from Business Account Manager and National Account Manager to Associate Director of Strategic Accounts to Director, Global Enterprise Sales and VP of State, Local and Education Business.
Over the years, she has developed the skills and experience to move forward in her career. Her mantra? "Find a way or make a way."
Building meaningful connections.
Patty is the epitome of building relationships and engaging with others. For her, it's even more meaningful when you can interact in a face-to-face environment.
Leading national teams for a few years now, Patty knows the importance of keeping her teams engaged and connected, which is why she set on a mission in the summer of 2021 to visit as many V Teamers as she could on her roadshow.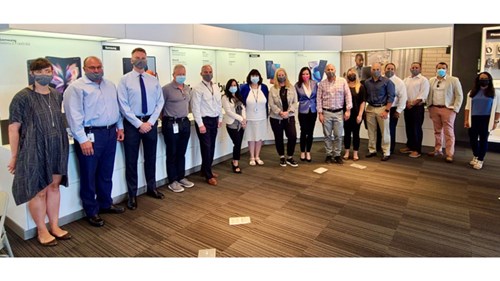 Patty photographed with members of her sales team during a Boston employee roundtable.
Keeping health and safety at the forefront, Patty gathered with her team members across the country, from Dallas and D.C. to New Jersey, Tampa, and more. She sat down with them to discuss key business matters and take part in employee roundtables.
Why join Verizon's Sales Team?
"You have to be extremely persistent in any sales role, whether it's a leadership or individual contributor role," she said. "I've become really resilient over the past 21 years. I can accept a 'no,' but I'm also going to be persistent to get a 'yes."
Still wondering if sales is the right career move right for you? Here are some of her top reasons for considering a sales role on the V Team.
1. Deliver top solutions.
For Patty, it's our network and the portfolio of solutions that stand out. She shares, "I can say with confidence that what we put out in the marketplace is reliable for our customers. We've been building our brand around that for the last 21 years and we continue to be a leader in this industry."
2. When opportunity knocks, go in.
Pursuing her ambitions has kept Patty on the V Team for so long with the many career paths and job opportunities that have helped move her career forward. Verizon is a big company that offers many different career areas and roles to explore.
3. Embrace career growth and leadership development resources.
After her experience in our Women of the World (WOW) program, Patty was inspired to pay it forward by serving as an Executive Core Sponsor Lead. Here, she works with V Teamers across the business helping them to expand their networks and build the skills and confidence to pursue their ambitions.
"It's such a proud moment when you see people advance, grow and build upon that confidence that helps them show up differently in the workplace," she said. "That's 100% why we're doing this program. It's all about diversity, inclusion and helping people show up differently in the workplace."
"Verizon represents all of my core values and beliefs in the way I think a company should operate and the way we show up in society on behalf of employees and shareholders. I couldn't be more proud to be a part of this organization."