Join us in recognizing and honoring military families during this Month of the Military Child.
As we prepare to honor the sacrifices of service members during Military Appreciation Month in May, it's important that we also take time to honor another important group — military families.
April is the Month of the Military Child, a time to recognize the important role that military families play and the sacrifices that they make every day, with an emphasis placed on military children.
Verizon VALOR is our employee resource group (ERG) that provides guidance, assistance, and representation for the military and veteran communities. Learn more about four speakers from their Month of the Military Child event, including Process Engineering Manager Schuyler Orecchio who was born in Fort Rucker, Alabama into an Army family. As a military dependent, he traveled with his family through eight permanent changes of station, including moves to Italy and South Korea. We'll be sharing Schuyler's story as part of May Military Appreciation Month.
Mya G. - Military child
My name is Mya, and I am a sophomore honor roll student in high school. As of right now, I am the salutatorian of my class, and I am actively volunteering and working to make my community a better place. Some of my hobbies are playing guitar, reading books, watching superhero shows and movies. I also enjoy learning about new people, ideas, and ways of life.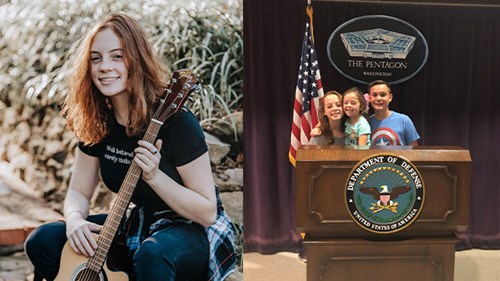 I am the type of person who believes that humans are not born good or evil, but they are changed and affected by the choices they make, and by the environment that they occupy. Personally, I know that every major event in my life was originally a choice that taught me a lesson or and helped to shape me into the person that I am now.
For as long as I can remember, my dad Mike A. has implemented the military lifestyle and strong foundations of right and wrong into my life. He has always managed to make time for our family, despite his busy schedule. As a young child, I can remember him going away for training, and making the effort to come home on the weekends by driving through the night whenever he was able. I think that it is so special to be so close to someone who has such a passion for justice, and it has definitely influenced me in ways I never thought possible before.
Megan H. - Inside Sales Lead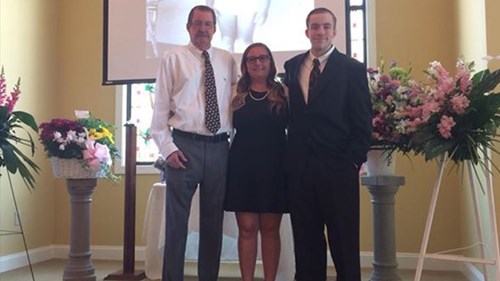 The resources that the VA offered to my family after my father's accident were impeccable. My father was in the Air Force. He had an accident many years after his discharge and the benefits were still available to help us during his surgery and recovery. The VA not only covered all medical bills but also took care of me as a child of a veteran.
When someone goes from being able to walk and move around to being paralyzed, it's an incredibly emotional journey. I spent many sleepless nights and many drives back and forth from Charlotte, NC, to Augusta, GA, where he was going through his spinal cord rehab. From the staff to the supplies and modifications made to our house so that my father could get around after his accident, I can't say enough about my experience. I am so thankful that the VA was there for us during that difficult time.
The building of the ramp for him to get in and out of the house was so essential and incredible. I will never forget when he called me and said, "They ordered my wheelchair, it's camouflage." I said, "Let's roll with it! No pun intended." The value of the VA and the quality of their service are impeccable.
Alecia M. - Manager, Channel Onboarding
I have been the proud wife of 24 years to a Navy Chief. We have two children, Darryck Jr., who is 23, and Victoria, who is turning 20. My stepfather served in the US Navy as a Corpsman, and as a result, we moved around a number of times during my childhood.
At one time, we went to three schools in one school year, so making friends either came quickly or didn't happen. Most of the time, the schools we attended were filled with other military children, so everyone knew the drill and quickly assimilated to the situation hoping to keep a friend for as long as possible.
This made me learn to be flexible in whatever situation I'm in because it can change in a heartbeat. I was so proud of my stepdad for saving the world; I took this pride and went on to raise my children with it.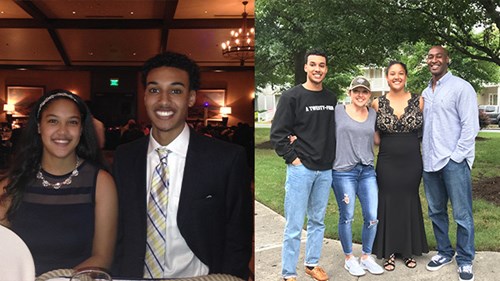 As a mom to two children born and raised into a military family, it was always important to try and create a solid family dynamic through so many long deployments. Together, we have weathered six 6-month or longer deployments and countless work detachments that have taken weeks, or months at a time.
My children were involved in what seemed like every sport, so there was always a ton of running around and keeping busy while dad was away. It was important to maintain structure; keeping them busy not only helped me out mentally but also connected them with some amazing role models.
When my husband was transferred to Pensacola, Florida for two years, the children were able to make amazing memories by visiting him. They took turns spending a month living with their dad to maintain that relationship and stay close to him. We went through it together as a family and continuing the connections via email, phone calls, and video calls definitely helped us feel together, even if we weren't physically together.
Tamika T. - Supervisor, Network Engineering and Operations
One of the most memorable moments of my childhood happened when I was five or six years old. I remember watching our little black and white TV while living in a one-bedroom apartment. We slept on the floor, washed outside, and used outhouses. I remember seeing American life on the screens and dreamed of one day achieving it. I used to always tell my father that I wanted to grow up to achieve the American dream and give back to my family for working so hard for us. I felt closest to my dreams anytime we visited the military base right that was right outside of our town.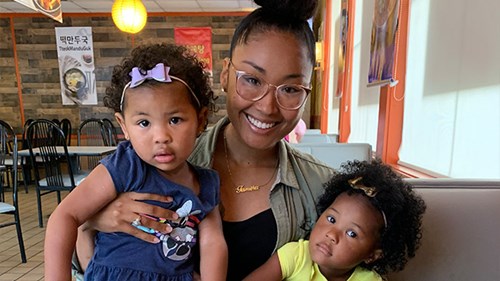 One day during my freshman year of high school, my father sat my sister and me down and shared that we would finally be able to travel to the United States to continue our education. He said we would have better opportunities to fulfill our goals. The day I left home was the first big heartache that I had ever experienced. It was definitely the hardest thing I had ever had to do. Although we experienced anxiety from the separation, my sister and I knew we'd be in great care with our grandparents and that we'd have each other.
Upon high school graduation, we both got accepted to an HBCU in South Carolina. We both enjoyed the years we shared in such a close-knit community.
As we prepared to begin our careers before graduation, Verizon accepted me into their Retail Leadership Development Program. I spent seven years there, then transitioned to network for three years in Charlotte, NC, where I currently serve as a Field Operations Supervisor. My sister has been with the company for six years and remains working in retail.
When I told my father that I wanted to live the life I saw on the television screens I never realized the journey it would take to get here. As I continue to grow in my career as a leader of the business, I know I'll be faced with many challenges and adversity. Remembering my humble beginnings motivates me and keeps me grounded.
Learn more about Verizon's commitment to the military community.