Learn how three V Teamers went from entry-level retail roles to leadership positions.
V Teamer Jennifer Arocho talks about what led her to pursue her ambitions in Verizon retail.
Are you looking to pursue your ambitions in a career that enables you to harness your passion for tech? Our retail team is a great place to launch your Verizon career journey whether you choose to stay in retail or explore our other career areas. Here, you'll find the opportunity to learn, grow, and succeed.
Wondering where to start? Hear from three V Teamers who went from retail to rockstar and became leaders in our business.
Values matter.
Two years before joining the V Team, David Oliveira worked right across the street from a Verizon retail location. Always passionate about technology and helping others, David decided to apply because he was looking to work at a company that aligned with his personal values.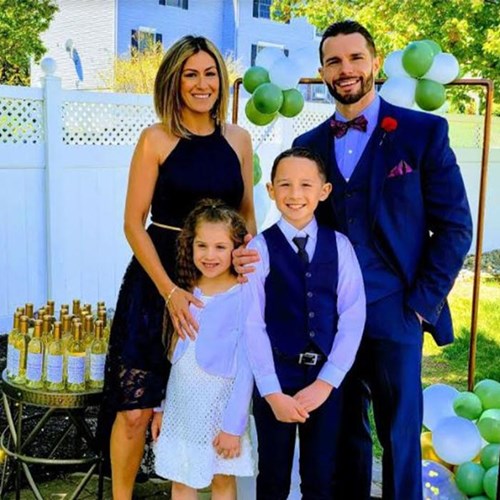 David and his family.
From day one as a solutions specialist, David felt welcomed. "From my first day, I felt like I belonged," he said. "The warmth and teamwork exhibited by my peers and leadership team motivated me and made me feel like I had a voice that mattered." From there, he worked on his career trajectory and was especially moved by seeing the growth and success of his peers. This motivated him to pursue a leadership position where he could pay it forward, make an impact, and truly put his thumbprint on the business.
For anyone looking to move their career forward, David has two pieces of advice: Bring your full self to work and do the right thing even when no one is looking. Our Credo says, "Change energizes us," and David shares that having an open mind and being adaptive were instrumental in his ascension from solutions specialist to consumer sales director.
"I feel like Verizon supported me every step of the way through my journey. I always felt like I had a voice and made a difference. Our best-in-class benefits and resources were always there for me too, both for growing my capabilities and when I was growing my family."
Drawn to tech early on.
Jennifer Arocho discovered her love of all things technology as a member of her high school's local television station. This is where her interest in communications and technology flourished.
While in college, she was given the opportunity to flex her tech smarts on Verizon's retail team. After joining, she credits flexible working hours and our comprehensive benefits package as a major factor in allowing her to continue furthering her education as a full-time student. She was able to complete her A.S. in Business Management/Human Resources and is currently pursuing a B.S. in Business Management.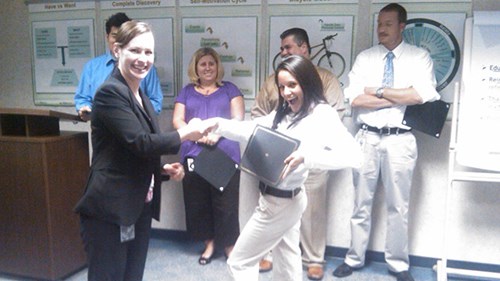 Jennifer at her New Hire Graduation Ceremony when she first joined the V Team.
Her personal and professional growth was a big motivator in moving her career forward from an entry-level retail role to consumer sales director. Her advice to someone starting in retail: "Take advantage of the vast amount of resources to further develop yourself within our organization. If you have interests about other positions within our organization, ask questions and dedicate time for your self-development."
As a leader, Jennifer is a big proponent of bringing new voices to the table and bouncing ideas off others who can give you different perspectives. "I've always been impressed with Verizon's commitment to diversity and inclusion. I feel like I can be my authentic self and bring the best of me to work," she said. "Our employee resource groups provide safe spaces to celebrate diversity and allyship. That type of support is fulfilling and immeasurable."
"In our retail stores, our frontline teams learn how to develop relationships with customers to deliver exceptional experiences. I took that learning throughout my career and applied it to the way I lead people."
Set up for success.
When he was 16, Fernando Rivera worked at a local restaurant. Although he loved his job and enjoyed learning the ins and outs of the business, he sought different career paths after he graduated from high school.
The restaurant was located near a Verizon store, and employees often stopped by for lunch. Seeing and interacting with them left a lasting impression on Fernando, and he soon thought about joining the team.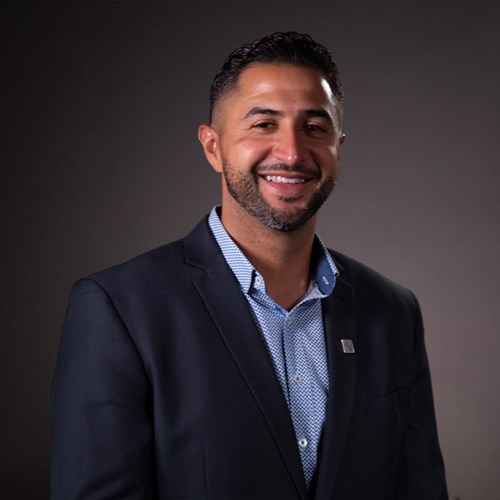 After attending a hiring event, he took an in-store customer support position on the V Team. For him, the best part of this role was seeing great examples of leadership around him and connecting with mentors who helped him learn and grow. This motivated him to take the next step in his career journey.
Today, Fernando is a Consumer Director in Southern California. He describes his leadership style as authentic and collaborative. He often uses lessons learned during his first role in customer support to help him truly connect with and understand his team — after all, he was once in their shoes.
For Fernando, leading is also mentoring so he can guide his team to pursue their ambitions and grow their careers. His biggest piece of advice to them: Learn as much as you can about the entire business and strive to be the best at your current role.
Fernando shares the key lessons he's learned throughout his career journey.
"Stay curious and find joy in your current role — this will drive success."
If you're eager to share your tech knowledge and want to play a part in building the future, a position in Verizon retail may be the right fit for you. Here, you'll have access to benefits that work for you, like tuition assistance and world-class training.