Welcome to our newest cohort of #VerizonThriveApprentices! Learn what excites our 33 apprentices as they begin their journeys.
In June 2021, we welcomed our first-ever class of Verizon Thrive apprentices. Now, we're excited to welcome our second class of apprentices to the program!
In partnership with Generation and Multiverse, our program offers vocational training and opportunities for individuals to thrive. This innovative apprenticeship program provides opportunities to develop in-demand digital skills as well as a pathway to a successful and fulfilling career in tech.
To kick off the program, we're highlighting a few of our new members who share their powerful and inspirational stories and their excitement for what's to come.
Ready to Thrive!
On November 8, 33 Thrive program apprentices officially joined our V Team in a variety of technology roles including software engineering, cloud, java development and digital marketing. With a mix of hands-on work and technical training, we reskill and upskill the apprentices for jobs in the future economy.
Check out their stories below and their enthusiasm for the program.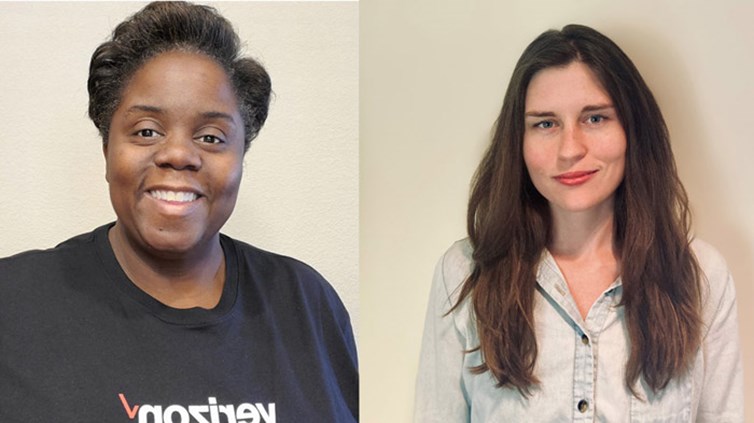 Left: Erica Newman; Right: Amanda Renfro
"I am truly excited about the opportunity I have with the Verizon Thrive Apprenticeship Program. I initially applied to the apprenticeship because I believe it is an opportunity that has come full circle for me. At the top of the Covid pandemic, I was impacted and laid off from a 25-year accounting career in the oil and gas industry.
Not knowing when the industry would pick back up and wanting to arm myself with new skills, I saw a newscast here in Dallas where Sean Segal, the CEO of Generation, was talking about the partnership with Verizon to develop opportunities in tech through non-traditional means. I was excited to hear about an opportunity that would change my life for the better.
It was a long shot, but I took on the challenge and signed up for Generation's Junior Cloud Practitioner program in November 2020. I completed the program gaining my AWS Cloud Practitioner certification in February 2021. This opportunity with Verizon is a dream come true for me." - Erica Newman
---
"A friend of mine sent me some information about Generation and I immediately applied. She knew I needed a new career — something that could facilitate unlimited growth, financial security, and where I could have satisfaction in seeing the results of my work.
My career advisor at Generation sent us information about the Verizon Thrive Apprenticeship program, which I was especially excited about. Before Generation/Verizon, I was the manager for a local boutique that focused on making sustainable, healthy treats. Before that, I was the senior manager at a local environmental non-profit.
I am so thrilled to now say that I am part of the Verizon Thrive Apprenticeship! To be able to learn from the best at a company that is constantly innovating in a truly impactful way is an irreplaceable experience. I am particularly grateful for the opportunity to learn in such a supported way with the extended boot camps through Multiverse, our Multiverse coach and Verizon Host-Manager, and a team of fellow apprentices that are geared up with grit and growth mindsets. I can't wait to start learning and building with Verizon!" - Amanda Renfro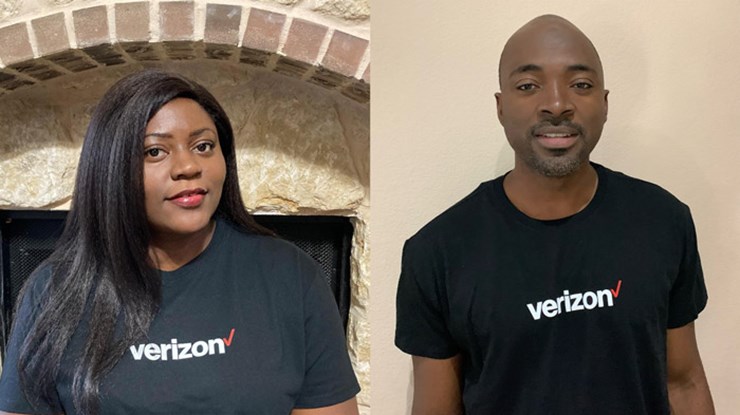 Left: Nadege Tenku; Right: Lamin Suso
"I got to know about Generation USA through my sister who is also a graduate of Generation USA. I enjoyed the time spent with Generation which was a great training platform. The Verizon Thrive Apprenticeship Program is a dream come true for me. I can't explain my joy with mere words. I will forever be thankful to Generation USA for opening up their doors, and today I am blessed to be part of the Verizon Thrive Apprenticeship Program." - Nadege Tenku
---
"What excites me about Verizon is its presence in cloud computing and the tools and technology we will be exposed to. I am passionate about learning and mastering new technologies, and cloud computing is something I have always wanted to study. Being accepted into this program is an excellent opportunity to learn and work on real-time business projects." - Lamin Suso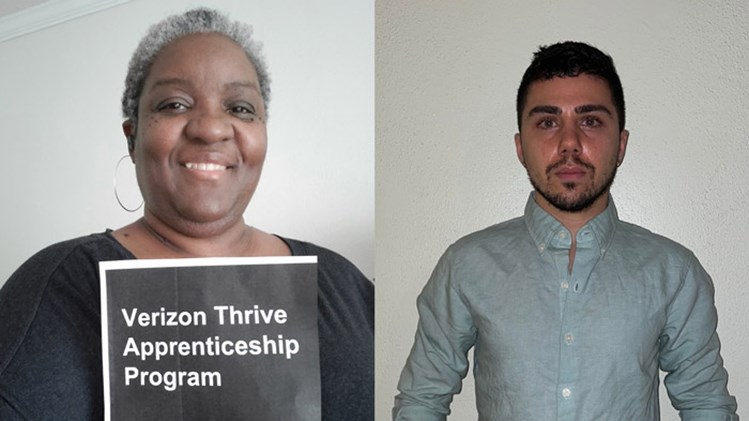 Left:Crystal Johnson; Right: Rodjder Ayhan
"I found Generation while looking for help in obtaining training and certifications. I have worked as a Help Desk Technician for several years and wanted to move to the admin side of things.
When I found Generation and researched the AWS Jr. Cloud Practitioner certification, I felt it was the perfect route for me. I am excited to be a part of the Verizon Thrive Apprenticeship Program because I feel that it will help me reach my full potential by providing a space for me to share, learn and grow." - Crystal Johnson
---
"I've always wanted to work in tech. Whether it was marketing or coding, I knew I wanted to get my foot into the digital world. I found out about Generation and the Verizon Thrive Apprentice Program simply by doing my own research, and it really intrigued me how awesome of an opportunity it would be if I took part in this cohort.
What excites me most is the endless amount of learning and knowledge I'll be gaining from this experience. I am super excited about this apprentice program and cannot wait to finally be part of Verizon." - Rodjder Ayhan