As we celebrate Asian Pacific American Heritage Month, meet two V Teamers who are passionate about their culture.
At Verizon, we are proud to celebrate #AAPIHeritageMonth by amplifying the voices of our own Asian American & Pacific Islander community. We're highlighting their rich cultures, contributions and perseverance.
Throughout the month, we'll have panels around social and racial equity, an arts talent show, virtual karaoke, and more.
We're also shining the spotlight on two Asian-American V Teamers who are members of our Verizon PACE (Pan Asian Corporate Excellence) employee resource group (ERG).
Jenny N., Consultant, Finance Planning & Analysis
Born and raised in Vietnam, Jenny grew up in her grandma's house where three generations lived under the same roof. Her childhood has provided her with many sweet memories about life with her grandma, aunts, uncles, and cousins.
The tight-knit community also included an extended family made up of neighbors and childhood friends. Jenny's neighbor was famous for her honeycomb cake, and to this day, she can close her eyes and smell the distinctive fragrance of pandan leaves and coconut milk in the air.
Though she was very young at the time, Jenny remembers that although most families in her town were struggling to make ends meet, they always showed kindness and generosity to others. It's memories like these that Jenny holds close to her heart.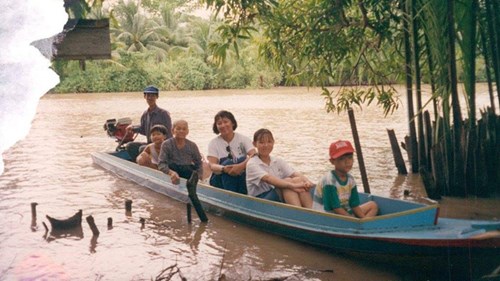 After high school, Jenny and her family moved to the U.S. to join her grandfather who left the country by boat after the Vietnam War. As a first-generation immigrant, he endured so many hardships and difficulties in order to rebuild his life in a new country while supporting his family back home.
"Don't worry about anything and just focus on your studying," he told Jenny when she met him for the first time.
In her career and life path, Jenny has carried her culture, sense of community, and compassion everywhere she's gone and happily shares that infectious spirit with others. No act of kindness is too small and her three-year-old nephew's saying "sharing is caring" has inspired her.
On the V Team, Jenny is actively involved in the Verizon PACE ERG. She is especially passionate about giving back to the community through volunteer work.
"There is a thread that connects all of us together and that comes from the core values we all share. Embracing the differences in our heritage, culture, and tradition has enriched my life in more ways than I can ever imagine."
Lux G., Manager, Business Excellence
As a South Asian with roots in Sri Lanka, India and England, culture has definitely influenced many aspects of Lux's life, including his professional career. Education was always front and center, and he credits the teachings of the great Mahatma Gandhi and the value of servant leadership in shaping his future.
Lux shares that his father had the opportunity to settle in England as a Queen's Counsellor, which would have given his family a very comfortable life. But he wanted to give something back to his home country and chart his path there. His father's story has had a major impact on Lux and it's something he factors into any decision-making in his professional career.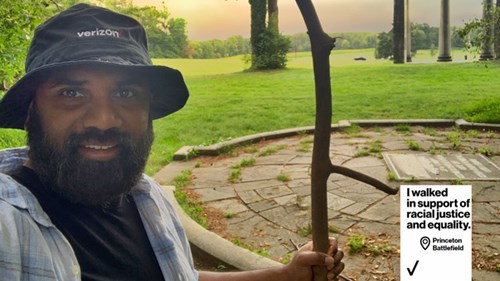 A new beginning.
Relatively new to the V Team, Lux was impressed with Verizon's leadership and their ability to make the onboarding process during a pandemic a positive experience. The company culture also left a great impression on him from day one. After joining the Verizon PACE ERG, he was able to participate in a virtual boat race that brought him many new friends and helped him to network quickly.
Lux is also a U.S. Army veteran and an active member of the Verizon VALOR ERG. Sharing similar experiences with fellow veterans has been motivating and helped him build instant camaraderie with his fellow V Teamers.
In his personal and professional life, Lux draws inspiration from some of history's greatest minds and personalities. This serves as his biggest motivation to keep moving forward.
"I am mostly inspired by anyone who has dreamed of a better world. But I do have my favorites: Mahatma Gandhi, Leonardo Da Vinci, and Abigail Adams. Rereading their stories and getting inspiration from their strength has influenced and motivated me," Lux said.
Celebrating Asian-Americans every day.
These incredible V Teamers are a testament to making a difference and moving the world forward by being themselves and letting their culture shape their personal and professional lives.