22 finalists represented Verizon at the 2022 Women in Sales Awards (WISA), with two winning big.
The 2022 Women in Sales Awards (WISA) Europe were recently held at its prestigious annual gala. These awards were created to bring a greater awareness of the need for gender diversity in sales and in executive leadership teams, as well as help grow the pipeline of sales talent. The awards are an opportunity to celebrate the achievements of women in sales roles.
Twenty-two Verizon Business finalists and mentors vied for honors, with Paulina Brissenden (Customer Service) and Prashanti Mukhi (Sales Newcomer) taking category wins.
Winning big at WISA 2022 - Meet Paulina and Prashanti.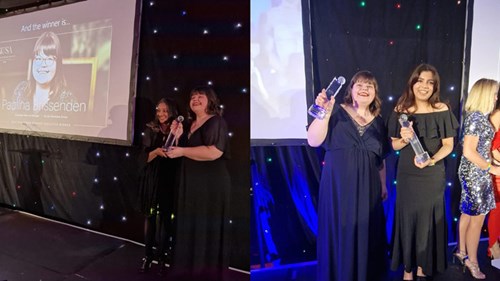 Paulina Brissenden, a Verizon Business Group Account Services Consultant from our Reading UK office, was recognized as the Best Customer Service Manager winner. 
Paulina lives the customer experience every day and has truly excelled by providing the highest levels of support to her clients while managing expectations. She manages the contact service center for one of the world's largest logistics/transportation companies among others. She continues to deliver value and solutions for some of the complex needs of these global companies.
"I put my clients at the center of everything I do as a Service Manager – their business is my drive. I believe that building strong and positive relationships is the foundation for growth and success," said Paulina. According to one of her clients, instead of taking the easier path and falling back on transactional interactions, Paulina has invested the time to get to know the team and helped lay the foundation for continued business with Verizon.
Pauline's advice for women in service management: be authentic! "Most of all though, if you want to make your mark, you need to stay curious and stay excited! Keep learning and have the courage to take risks and reach for your goals ambitions," she added.
Not only has Paulina delivered great customer service to her external clients but she's an integral part of many cross-functional teams across Verizon. She brings energy to the team, leadership, service management experience as well as a great "can-do" approach.
Prashanti Mukhi, Enterprise Sales Senior Account Manager from our London location, was also recognized at WISA as the 2022 Best Sales Newcomer winner.  
What a year it's been for Prashanti!! She joined Verizon in 2021 after a successful journey through our Early in Careers leadership program. From the start, Prashanti has been a sales rock star, achieving 162% against quota for 2021 and 163% for the first half of 2022.
Her incredible work ethic is balanced by a relentless and selfless attitude towards driving positive change within our business. She is a leading figure in our #VerizonEMEA sales advisory council, a driving force in a talent program that aims to attract, develop and inspire employees. She's developed podcasts to showcase inspirational V Teamers within our business.
Commenting on her win, Prashanti notes: "This win is not mine alone. It belongs to all the women before me. I stand on their sacrifices. And though I am new, I plan on wielding my voice to break many many more barriers. A big thank you to my Verizon family. For the nomination, the encouragement, the blessings - and most importantly - helping me carve my own way in this world."
Even though still early in her career, Prashanti is looking toward the future and taking part in our Pre-Leaders Academy.
She is an inspiration to other women in our business – and truly embodies how you can make an impact quickly and drive great outcomes.
Kudos to all our Women in Sales finalists and mentors.
Our finalists for 2022 included V Teamers across Sales, Customer Service, Sales Support, Finance, and Professional Services.
22 V Teamers were recognized as finalists in a total of 13 WISA categories, including Best in Technology Sales, Best Sales Mentor, Best in Business Development, and more. Winners and finalists from different companies are named in each category.
Help us celebrate our V Team's achievements with our complete list of finalists and winners.
Women in Sales Awards 2022 Finalists and Winners
Best Woman Customer Service Manager - Paulina Brissenden (Winner)
Best Woman Customer Service Director - Clodagh Cosh, Fatima Imaalitane, Jenny Conington
Best Woman In Digital Sales - Efrosini Kelidou
Best Woman Sales Mentor - Hannah Dauncey, Daniel Evans, Xavier White, Sven Lange
Best Woman Customer Service Manager - Anne-Frederique Palmero, Isabelle Patrix, Simran Grewal
Best Woman Sales Engineer - Jorja Stockle
Best Woman Sales Newcomer - Lorela Kloboçishta, Prashanti Mukhi (Winner)
Best Woman Sales Capability Manager - Francoise Boardman
Best Woman in Technology Sales - Tanja Baskarada, Rosalie Christinat
Best Woman Key Account Manager - Meiss Melissa Martén
Best Women in Business Development - Sanne Oukes
Best Woman Sales Capability Manager - Ruth Rogers