Learn what we're doing this month to honor our military community.
Here's how V Teamers are showing their gratitude this Military Appreciation Month.
At Verizon, we value our military community in every aspect. With over 10,000 veterans employed at Verizon, we value the skills and perspectives they contribute across our entire business as they serve our customers. Our commitment to the military is reflected in our workforce. We've even been named the #1 Military Friendly Company for three years in a row.
May marks Military Appreciation Month — a time to honor and pay tribute to the military community. Every year, we thank military members for their service through a lineup of volunteer activities and initiatives. Due to the circumstances brought on by COVID-19, we have transitioned the majority of our yearly activities from in-person to virtual participation.
Here's an overview of everything we have planned to honor service members and their families this month.
Running to a Crisis: Leadership Skills from the Military.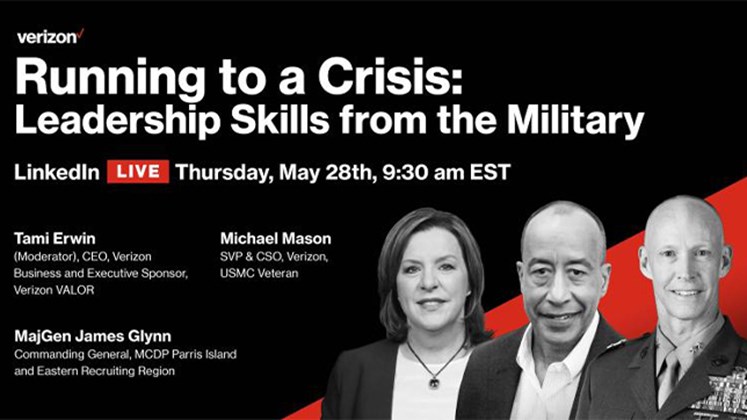 What better way to end the month than with a discussion centered on military skills and experience? This month, Verizon Business CEO Tami Erwin led a LinkedIn Live discussion on leadership skills learned in the military. She was joined by Verizon SVP & CSO and USMC Veteran Michael Mason and Major General James F. Glynn, Commanding General, Marine Corps Recruit Depot Parris Island and Eastern Recruiting Region.
V Teamers walk to Carry the Load.
For the past three years, V Teamers across the country have gathered for a Carry the Load walk to honor service members. This Military Appreciation Month, we're taking our walk virtual by encouraging our team to join a one-hour virtual walk to honor the sacrifices made by our military, veterans, first responders, medical professionals on a daily basis.
To participate, V Teamers can take a walk in their neighborhood or even on the treadmill. All we ask is that participants employ sound judgment by engaging in safe and social-distancing friendly activities only.
Giving back virtually.
In addition to our Carry the Load walk, there are also many additional virtual volunteer opportunities for V Teamers to take part in, from writing letters to senior veterans to becoming a peer counselor for the military community. We're even getting creative with our volunteer efforts by crafting no-sew blankets for veterans.
To sign up for a virtual volunteer activity, V Teamers can visit our volunteering page.
We're giving more to those who give the most.
We're proud to share our military discounts for service members and their families, and this year, we're even more proud to extend these offers to teachers, nurses, first responders and military members currently working on the frontlines. Beginning this month, these groups are eligible to get our best price on their personal wireless plans. In addition, we're providing a $5 line discount on Business Unlimited plans for small businesses owned military veterans.
For more on what we're doing this month, check out our military discounts page.
From the military to the V Team.
During the 2020 Military Appreciation Month, we're proud to share military-centric stories of our Verizon veterans who have truly gone beyond. As part of our military vignette series, we'll be sharing many employee stories including:
George Riggins, U.S. Army veteran and leader in our Global Network & Technology team
Lloyd Cook, U.S. Army veteran and Fleet Operations Supervisor
Barbie Richardson, U.S. Air Force veteran and Operations Manager
Watch Barbie Richardson talk about how Verizon helped her transition from military to civilian life.
In addition, we'll also be sharing video messages from Verizon's leadership as they extend a special "thank you" to the veterans on their teams. To hear more from our veteran V Teamers and this month, be sure to follow @VerizonCareers on Twitter, Instagram, Facebook and LinkedIn where we'll be sharing more of their inspiring stories.
A moment of silence and an opportunity to give back with some cool gear.
In lieu of our Fallen Comrade Tables we've set up in past years, we'll be observing a Memorial Day moment of silence on our daily Up to Speed employee webcast for our fallen military heroes and those who were victims of COVID-19. We'll also be sharing #TheHumanNetwork stories of V Teamers who are reservists or have family in the military helping with COVID-19 relief efforts.
We're also partnering with combat disabled veteran-owned business "Call for Fire" on new camo-themed shirts, sweatshirts and hats with a portion of the proceeds going to veteran nonprofit organizations on behalf of Verizon.
To all of the military community, thank you for your service. We honor you not only this month but every day.