Jennifer Chronis and Maggie Hallbach are a formidable tandem moving the world forward in Public Sector sales.
Maggie Hallbach and Jennifer Chronis are two inspiring leaders in Verizon Sales. Both strong #VerizonWomenInSales guide their teams to help Public Sector organizations of all kinds increase productivity while maintaining security and compliance.
Learn more about their journeys and how they each made their way to a sales career while inspiring other women to join this dynamic organization.
Maggie Hallbach - VP of Business Development, Public Sector
After her summer internship and graduation from business school, Maggie Hallbach was offered a job with Verizon legacy company MCI in product marketing. By 2006, she moved into the business markets side of Verizon, where she worked on global sales strategy.
At the time, Verizon had no Inside Sales organization. So, Maggie was asked to build the organization and strategy from the ground up. Despite being appreciative to lead the project, she was initially reluctant and referred two other candidates with more sales experience. Her leader saw a spark in her and he ultimately asked Maggie to lead the Inside Sales organization that she built. Who better for Maggie to ask for advice than dear old dad who firmly told her, "You don't say no twice!" So that was her entrée into sales.
Recently, Maggie's building skills were once again requested on the Public Sector team to form the Verizon Business Development and Strategic Sales organization. To architect this team, Maggie created an "ensemble cast" with different skill sets who would each bring a different perspective to the table.
"If everyone was a trumpet, it would be too loud. If everyone was an oboe, it would be too soft," she said. "You've got to have a selection of all these different points of view to create beautiful music."
"Don't be afraid of the sales moniker."
In college, if you had told her that she'd be working in sales, Maggie would have laughed it off. Back then, her perception of sales was the stereotypical fedora-wearing salesman she saw in old TCM movies. Her perception of sales today, however, doesn't come close to what she once envisioned.
Her advice for those considering a career in sales:
Don't let any misperceptions of sales sway you from considering this career area.
Help customers realize the power of the relationship with their account team (this was especially prevalent during the pandemic).
Focus on the outcome and articulate problems solved for customers
"When your customers tell others about the problems you've solved for them, then it doesn't feel like you're selling — it feels like you're solving. This mindset shift is really important for people to take on when they think, 'Why do I want to consider a role at Verizon in Sales?' And it's all about solving customer problems."
Jennifer Chronis - SVP of Public Sector
With 20 years in the military, Jennifer Chronis knows from experience the discipline and patience needed to be an effective leader. The military taught her the importance of inspiring teams to a long-term vision — something she continues to do in her role today.
Get to know more about Jennifer in this episode of Up To Speed.

Jennifer spent 10 years in the U.S. Army and another 10 years in the U.S. Army Reserves, retiring as a Lieutenant Colonel. Since then, she's taken those skills to build her career in sales and technology.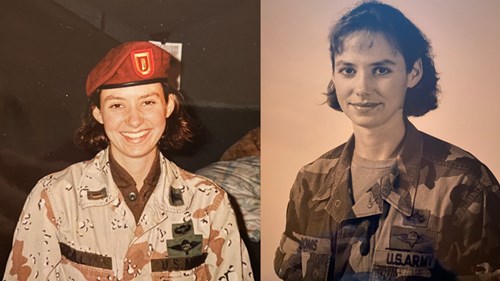 "Love what you do." 
In our lifetime, we spend the majority of our time at work. This is why Jennifer believes it's important to find something you're passionate about and then find a role that allows you to embrace your passion.
Today, she's following her passions as SVP of Public Sector. Here, she focuses on not only delivering strong results for the business but also building an impactful and diverse workforce to best serve the needs of our customers.
Jennifer encourages other women entering the sales field to do the same thing: Follow your passion. "Do what you believe is going to make you wake up every day and be excited about the work that you do," she said. "We spend more time working in our lives than anything else. It's really important to understand what you're passionate about and go find that job that helps you execute on that passion every single day."
"This is an amazing company. The products and services we deliver are world-class, and the support for veterans is above and beyond what I've ever seen. The support for advancing your career is outstanding, and there's no better place to be."
Leadership that WOWs!
Besides working in tandem within our public sector organization, Jennifer and Maggie also share a common bond to help move women forward in sales careers by serving as executive sponsors for our Women of the World (WOW) career development program for V Teamers.
As executive sponsors, they check in with their groups regularly, make sure they're on track with learning objectives, and support them with everything from words of encouragement to additional resources for women leaders.
"What I love about WOW is helping women see themselves in a leadership role and understand how they can be authentic to their many other roles in life, while also making time for their career," Maggie said.
Move your career forward on Verizon's sales team.