On May 15, we celebrate Armed Forces Day in the U.S. and salute those among our ranks we count as our very own military heroes.
As we've done on the third Saturday in May since 1950, we honor and acknowledge Americans in the U.S. Army, Navy, Air Force, Coast Guard, Space Force and Marines. Prior to 1950, each military branch had separate days of commemoration until the Department of Defense decided to unify the branches under one government department as a way of expanding public understanding of the role of the military in civilian life.
Armed Forces Day is often confused with Veterans Day. Both are important days to honor our military men and women; however, Armed Forces Day salutes those who remain in active duty, while Veterans Day honors those who are no longer active.
We introduce you to four V Teamers that have two "day jobs" - their day jobs supporting our employees and customers and their military service for the country.
Adam Casas: VBG Managing Partner — San Diego, CA
Adam began his career as an active duty Marine, and now considers it the greatest honor of his life to continue his service to his country as First Sergeant of A CO, 4th Tank BN in the Marine Corps Reserves.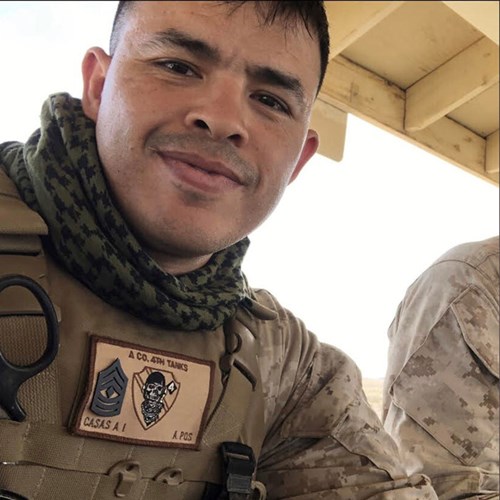 Service is not always easy, deployments are difficult and time away from family can be hard to endure. Adam considers it worth it if he can ensure the safety and freedom of his country, and by extension, the people he holds dear. The sacrifices he makes are a burden worth bearing.
In the past few years, the Marine Corps has made the decision to shift its strategy and move in a new direction. In true Verizon fashion, Adam took these changes in stride, demonstrating his commitment to keep moving the world forward.
Learn more about Adam's experience in his unit.
For Adam, there's nothing more important than supporting each other as we advance towards a greater future.
"That's what a Marine does. And this very commitment has prepared and also served me well in my Verizon career."
Margo Cronin: GN&T Construction (CXM) Manager — North Bergen, NJ
In 2013, Margo completed her degree at Seton Hall University and was immediately commissioned into the PA Army National Guard. Little did she know, her life would be forever changed. Much of her early military career was dedicated to learning quickly, and with effort and dedication, she was able to rise through the ranks to her current position as a Company Commander.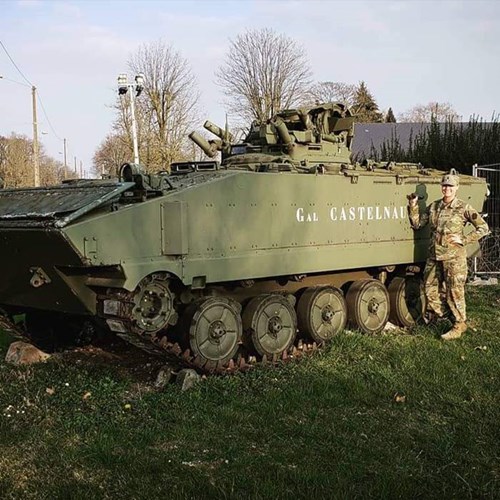 Along her journey, Margo learned some difficult lessons. The most important lessons she learned were around her purpose and the impact she could have on her fellow soldiers.
Through countless hours of planning, sitting with each soldier and listening to their input, and taking the time to develop those under her charge, Margo has begun to understand the meaning of leadership. She is now acutely aware that soldiers often have difficult lives. In her mind, they never really take off the uniform, because the battles they fight at home can be just as strenuous as the ones they fight overseas.
"Having the opportunity to lead, influence and encourage the soldiers while also aiding and supporting them is the most humbling experience that I will treasure forever. People often ask me what my life is like in the military, and I always think about the soldiers in my ranks and say, 'It's not always easy — but it's always worth it!'"
Brian Mello: Corporate Security Operations – Providence, RI
Brian has served his country proudly for the past 28 years, first as an enlisted member of the US Air Force, and now as a Master Sergeant in the Rhode Island Air National Guard (RIANG). His current responsibilities include ensuring his 26 airmen are up-to-date on training and qualifications, and they remain fit for duty when they're called to service. In recent years, his unit has provided disaster relief in the wake of multiple hurricanes and supported the 2013 and 2017 Presidential Inaugurations.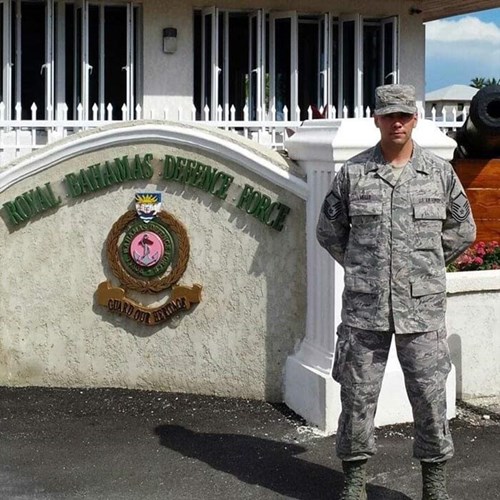 When Brian was first enlisted in 1993, he began his active duty career in Madrid, Spain and for the next five years performed operations within Spain and Germany. While in Europe, Brian was deployed to Bosnia Herzegovina where he spent time operating in the outlying areas of what was formerly Yugoslavia. In 1998, Brian made his transition to the RIANG as a drill status guardsman, where he served as a training office technician and conducted staff visits at 11 squadrons and individual units to ensure performance goals were being met.
After many years of distinctive service, Brian stepped into his current role with the RIANG and was selected among the top of his peers to attend a Leadership Development Course. He is proud and honored to have received numerous leadership awards over the course of his career.
"I believe there is greatness as not only a member of the community but having the opportunity to serve alongside the men and women of the Rhode Island Air National Guard. Every person serving has a unique story and background that truly makes being a drill status guardsman an opportunity of a lifetime."
Raymundo Arroyobautista: VBG Solutions Architect — Irvine, CA
Raymundo currently serves as a Communications Officer with the Marine Corps Reserves 1st Civil Affairs Group in Camp Pendleton, CA. His responsibilities while on duty at drill weekend include maintaining the unit's communications equipment and ensuring his unit has reliable access to the Marine Corps' computer network.
Prior to his commission with the Marine Corps Reserves, Raymundo began his military career serving as an active duty Marine. The experiences he found most rewarding were the opportunities he had to interact with the young enlisted Marines; assisting in their development as future leaders and watching them grow into competent military professionals. The fulfillment he felt while serving with his fellow Marines led Raymundo to join the Marine Corps Reserves after completing his active duty obligation. Although he now only has the chance to meet with his unit once monthly, he looks forward to the time with his Marine Corps brothers and sisters.
"I must stress that I really appreciate Verizon's support throughout my time in the Marine Corps Reserves. Having an employer that truly believes in the mission of the Reserves makes all the difference in the world."
Giving #Thanks2Vets
Thank you to all of our active service men and women, we honor your service to our country. Verizon is made better by the sacrifices and contributions you make every day to ensure that our great country stays great.
Happy Armed Forces Day! Be sure to thank a member of the military on May 15 — and of course any day at all.